Looking for the Best Desktop CNC Machine that fits perfectly to the need? You are in the right place.

I have focussed here on the CNCs that are smaller, budget friendly , perfect for hobbyists and small business .

These CNC are well received by most people and have proven their capabilities time and time.
Although there are many CNCs out there but I have picked only those which are easily available.

Trust me it is not at all a good feeling to spent on something you love and not get delivered right.

I will be bringing more details on other type of CNCs use in the market.
But for now you can be quite positive that these products can be delivered on time..
Although there are man..
---
Best Desktop CNC machines
Recommended Reading :
---
Top 6 Desktop CNC machines
---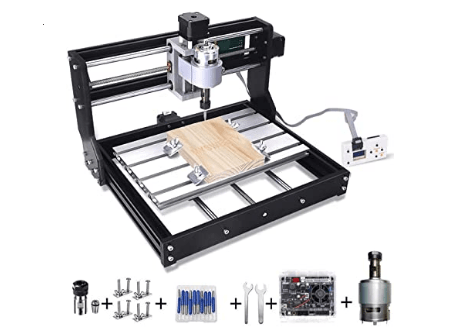 Features & Specifications :
Profile Dimensions : 33x40x24cm
Engraving area : 30x18x4.5cm
Spindle : 775 spindle motor(12-36V) 24V:10000r / min
Software :GRBL control systems
Support system : Windows XP / Win 7 / Win 8 / Win 10.
Stepper motor : fuselage length 34MM,Current 1.33A, 12v.Torque 0.25N/M
Drill bits : tip 0.1mm ,20 degree , diameter3.175mm. The package includes 10pc.
Clamps : 4 pcs, Hold the thickness of 0-30mm, the inner slot width 6mm
Part Number : 3018 pro
Item Weight : 15.27 pounds
Package Dimensions : 17.4 x 9.5 x 6.8 inches
Item model number : 3018 pro
Color : Black
Material : Phenolic resin + aluminum
Power Source : Hand-powered
Batteries Included/ Required : No
Mysweet CNC 3018-PRO is an upgraded version of 3018 that comes with various features to make your work and business easier.
Upgrade version provides you with an offline controller where you manually access the three axes and manually open and close the spindle.
Here you can link the offline board to the GRBL control board for carving without a computer.
You can directly access the engraving file when the offline board is connected to the laptop and identified as a USB mass storage device.
This engraving machine can engrave soft material like wood, plastic, acrylic, PVC, and PCB.
The drill bit can't carve the hard metal, jade or other hard materials.
The limit switches don't come with this unit. You have to add the limit switches.
The controller board has connection points for the limit switches. With the help of GRBL operating software, it will be possible to set the other process.
This unit comes with wiring for the 42mm Stepper motor.
This machine uses open-source GRBL.
Also, the device has a new control Board; it is supposed to be pre-programmed with GRBL.
The more recent version of the GRBL control is called candle.
If you feel the need for end-stops, you can add them to the board.
There is no positive or negative marking on the spindle motor.
The ER11 collet comes with a spindle motor, and you can turn on and off the motor.
With given instruction, you can quickly assemble the unit.
If you cannot complete the assembly, download the English manual and the software on the USB disk. Also, there is a learning curve kit to make your work smoothly.
Pros :
It can be used offline.
Without connecting to the computer you can control the cnc router.
Affordable.
Sturdy Aluminum Profile.
Cons :
No limit switches.
No positive or negative marking on the spindle motor.
---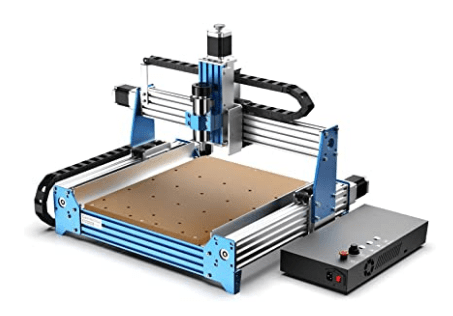 Features & Specifications :
Part Number : PROVerXL 4030
Item Weight : 57.2 pounds
Package Dimensions : 32 x 26.75 x 12.75 inches
Material : Aluminum
Batteries Included/ Required : No
Working Area : 400 x 300 x 110mm (15.75" x 11.81" x 4.33")
Frame : C Beam Structure and Linear Rails
Drive System : ACME Leadscrew (T10)
Control Board Compatibility : GRBL 1.1h
Stepper Driver : TB6560
Stepper Motors : NEMA 23 (2 Phase, 3A)
Spindle : 300W 6A, 12,000 RPM
Power Supply : 600W, 7A, 0-48V
CAM Software : Candle, Carvico Maker, Easel
Homing Switches : X, Y, Z Limit Switches + ESTOP
Lead Screw Size : X-658mm , Y-528mm, Z-208mm
Lead Screw Type : T10 2mm pitch, 5mm lead 5 start acme lead screw
Overall Machine Size : 641 x 755.5 x 580mm (25.23" x 29.74" x 22.83"
Controller Box Size : 400 x 200 x 60.7mm (15.75" x 7.87" x 2.39")
The Genmitsu PROVerXL 4030 CNC is the more powerful, more extensive and sturdy new benchtop machine-like Desktop CNC machine.
It has a large working area. And new features like redesigned control box, drive system, a sturdy C-BEAM frame, precision NEMA 23 stepper motors, high Power Spindle and adapter for a drop in Dewalt DWP611 upgrade, which will make your work comfortable.
If you want to explore with a giant machine, you can use an upgrade kit of this machine which is available in two additional sizes, 600 x 600mm (24"x 24") and up to 1000 x 1000mm (40" x 40").
The emergency stop switches, XYZ axis limit switches, speed control, Z-probe and all of the accessories and components included in the Genmitsu PROVerXL 4030 CNC router.
So no additional parts and no stripped-down kits or add-ons required.
This Genmitsu PROVerXL 4030 CNC is an ultimate router with excellent performance.
This machine works flawlessly with the variation of cutting, drilling, and carving operations on various materials, including wood, plastics, foams, vinyl, MDF, and aluminium.
It has more stability than the traditional v- slot drive by the accuracy of applications and equipment.
Pros :
Easy to assemble.
Good stability.
Large and Sturdy.
You can add upgrade kit.
Cons :
---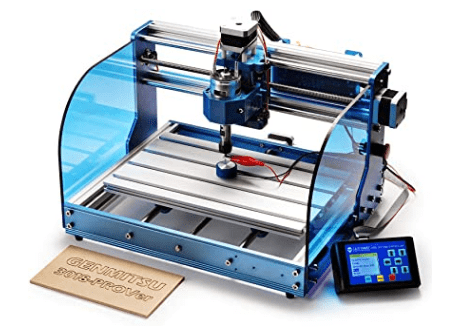 Features & Specifications :
Part Number : 3018-PROVer
Item Weight : 21.4 pounds
Package Dimensions : 18.3 x 16.5 x 10.9 inches
Style : 3018-PROVer
Material : Aluminum
Item Package Quantity : 1
Batteries Included/Required : No
Effective Engraving Area : 260 x 155 x 35mm(10.2 x 6.1 x 1.4")
Frame Size : 400 x 330 x 240mm(15.7 x 13.0 x 9.4")
Z-Axis Component Material : ABS
Spindle : 775 motor, 12V~24V, 10000 RPM;
Rated power : 60W; Maximum power: 120W
Step Motor : 1.3 A, 12V, 0.25 Nm torque (2.2 in-lb)
Drill Bits : Tip 0.1 mm, 20 degrees, Diameter 3.175 mm
Supported OS : Windows XP, Windows 7 32/64 bits, Windows 8, Windows 10, Linux, MAC OS
Software : Grbl control(Candle)
Power Supply : 24V/5A, with CE, FCC & PSE certifications
The latest version Genmitsu 3018-PROVer all-aluminium frame makes it a sturdy body and gives a premium look.
This pre-assembled desktop CNC machine saves your time.
This machine has a newly designed offline controller with a 1.8 TFT LCD. So without connecting a computer, you can control the CNC router.
The learning curve comes with this unit and comes with most of the tools you have to put together.
This machine doesn't come with a laser module, but it gives you an optional upgrade, So you can spend some money and add it to your device.
The 3018-PROVer provides you with an Emergency Stop button as a safety feature.
The Toshiba TB6S109 drivers and optocouplers protect the machine with the mainboard from damage, reducing the noise.
This machine can not cut hard metal, only soft metal..
Pros :
High quality material.
Depth works very well.
Easy to assemble.
Cons :
Lack of accurate documentation.
---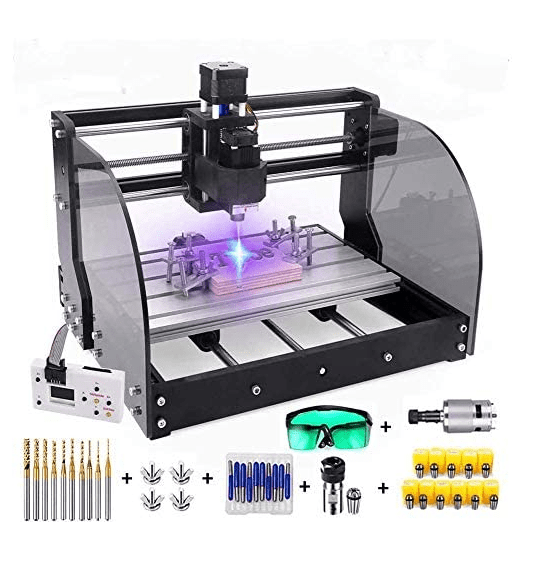 Features & Specifications :
Engraving area : 300 x 180 x 45 mm,
Material : Aluminum + PF + ABS
Spindle : 775 motor, 24V, 1000RPM
Software : GRBL supported G-code, NC, TXT, TAP / ModuleGRBL supported G-code and picture
Item Weight : 16.99 pounds
The 5500mW Engraver CNC 3018 pro max is a high-quality product best for startup and professional level.
This machine is for beginners, but they can also use whose hobby is woodworking.
The instruction and the product manual come with this CNC router.
It is straightforward, and you can easily assemble it within two hours.
It has two different boards.
The aluminium plate has two different sides. One side has three striped paths, and the other has forced tri paths.
Engraver CNC 3018 Pro comes with an updated control board that provides an integrated driver chip, fixed hit sink, external fan, self-contained short circuit protector, and sturdy shell.
Safety goggles will protect your eyes from harm by continuous work over a long period.
The offline controller provides you micro SD and card, more memory space 1GB than the old one, 128 MB, and Gcode files(NC, txt, tap NCC).
This module allows you to access the Arduino GRBL 1.1 board and new offline controller.
You should avoid using the computer and controller at the same time.
This machine can carve wood, plastic, acrylic, PCB CCL, and soft metal like copper and aluminium.
But can't engrave hard metal.
Pros :
Affordable.
Excellent for beginners.
High quality.
Cons :
Instructions are not clear.
Cable connection will be difficult if you don't have the right instruction.
---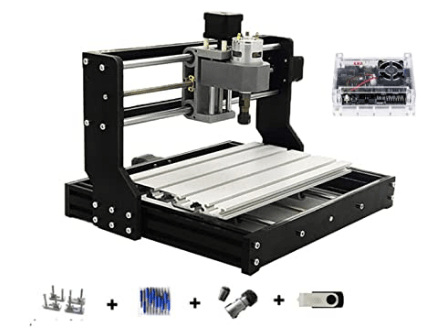 Features & Specifications :
Part Number : 3018
Item Weight : 14.84 pounds
Package Dimensions : 17.32 x 9.88 x 6.89 inchesStyle : 3018PRO+Offline controller
Power Source : Ac/dc
Item Package Quantity :1
Batteries Included/Required : No
Spindle parameters : 775 spindle motor (12-36V) 24V:10000r/min
Drill clamp parameters : ER11-3.175mm ( can be replaced 0-7mm )
Supporting files : G-code (nc/.txt/.tape/.gcode)
Machinable material : Wood, plastic, PCB, PVC, carbon fiber, acrylic, density board etc
Control system : GRBLcontrol, USB interface
Working area : 30x18x4.5cm
Frame size : 40x33x24cm
Material : Aluminum Alloy
Processing thickness : 4.5cm
Chuck specification : ER11 Collet
Control system : GRBLcontrol, USB interface
Drill bits :10pcs tip 0.1mm ,20 degree,diameter3.175mm
Stepper motor : 42 stepper motor 34MM,1.33A,0.25N.M
This Mini CNC 3018 PRO is a compact and lightweight machine.
This upgrade version is perfect for the startup.
So the beginner can easily access this mini CNC for their small business or as a hobby.
Here we will share a few essential things about this unit necessary to know.
The 3018 PRO upgrade version comes with an offline controller, which gives you an SD card reader. This machine has a manually adjustable three-axis location as an engraving starting point that manually opens or closes the spindle.
This machine allows you to operate without connecting to the computer.
This machine can be engraved wood, plastic, acrylic, PVC, PCB and soft material like copper, aluminium but it can't carve hard metal.

It is also best desktop cnc for carbon fiber.
A package comes with this unit, including a 4G USB flash drive where you can download the English user manual and GRBL software.
Pros :
Easy to assemble with instructions
Offline Controller
Cons :
Doesn't come laser with this unit
---
Features & Specifications :
Machine Size : 452x 385x 316mm / 17.8″"x15.16″"x12.44″"
Active Working Area : 278x157x 45mm / 11″"x6.18″"x1.77″"
Spindle Rated Power : 775 Spindle 60W; 10000RPM
Step Motor : NEMA17
Accuracy : 0.1mm
Power Supply : 12V 5A
Support Software : Compatible with all GRBL software.
Supported OS : Windows XP/7/8/10, Linux, MAC OS (some Mac OS version may not be compatible)
Encloser : Transparent
Active Working Area : 11″"x 6.18″"x 1.77″"
Spindle Power : 60W
Upgrade Z-axis Fixture : Accommodate 300W spindle and 5W/15W/20W module
Stepper Motor : NEMA 17
Part Number : FAC30
Item Weight : 26.1 pounds
Package Dimensions : 19.9 x 17.9 x 12 inches
Color : Dark Grey
Voltage : 12 Volts
The 3018-SE V2 comes with a transparent enclosure which saves spindle and dust while engraving. You can easily watch the engraving process from the outside.
This machine supports a 300W spindle.
The new spindle mount can fit 5W and 20W modules; also, it can upgrade the 300W spindle.
The limit switches and emergency stop switch come with this unit for safety purposes.
There will be no problem in assembling because the main parts come pre-installed from the factory, and wires are labelled so that you can quickly complete them.
This desktop 3018-SE V2 can engrave and cut different materials like plywood, MDF, PCB, acrylic, and soft metals like aluminium and brass.
You can engrave, cut, and drill with this machine.
Those who are thinking to start a small business can go with this excellent machine and explore and have fun.
This unit supports open-source GRBL software.
If you want, you can use other software to create your design.
Pros :
Good quality.
Affordable.
Enclosure for safety.
Cons :
Limited functionality.
Not available Offline Controller.
---
FAQ
What is a desktop CNC machine?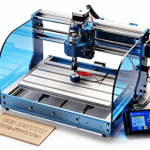 Desktop CNC machines are the smaller versions of industrial CNC machines.
CNC machines are used for cutting woods, metal with the help of computer and the softwares.
Desktop CNC are mostly used by DIY enthusiasts, Hobbyist and small companies.
What are the advantages and disadvantages of Desktop CNC machine?
Advantage : It is compact , lightweight and best suited for people who wants to try out CNC machines within a budget and also for small business.
Disadvantage : Because of its smaller size , It is difficult to carry out works that require larger space.
What can you make with a Desktop CNC machine?
You can make beautiful wood decorations, gear arts, Ornamentals, Designs on lightweight metal , Signatures , Writings on wood . etc.
Which software is used for CNC programming?
CAM software is used for programming.
---
Conclusion
The best desktop CNC machines, which offer remarkable precision and versatility for small-scale applications, are highlighted in the article's conclusion. These machines provide excellent results in a range of materials, including wood, plastic, and metal, and are portable and simple to use. These machines provide the ideal balance of efficiency, practicality, and affordability whether you're a professional, a maker, or a hobbyist seeking for a trustworthy desktop CNC solution.