Here I have explained about how to get polyurethane off wood.
I have covered different effective ways to remove polyurethane from wood.
Apart from this I have discussed how to remove polyurethane from wood without sanding.
I hope it will help you..
Recommended Reading:
– Learn how to get polyurethane off hands.
How to Get Polyurethane Off Wood-easiest way
Equipment:
Stirring stick.
Mohawk Finishing Products
ventilator mask
You will need to use these items to remove polyurethane coating from wood.
Note: The room should be ventilated as you are going to use striping chemicals. You should choose a water-based remover or DIY paint remover.

Be sure to protect the floor and furniture from drippings. Remove everything and clear the room.

Safety first: Before you start the project you should follow some safety rules.
like you have to protect your eyes, skin and lungs. So, you need to use the given safety equipment.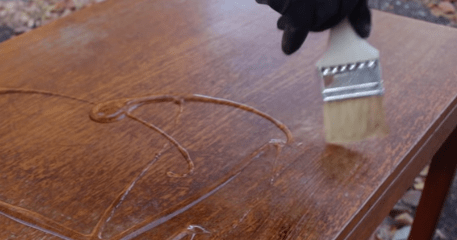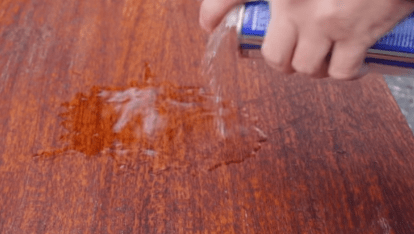 Follow the steps:
# Make a remover.
(If you are using DIY paint remover)
Requires:
Denatured alcohol
Lacquer thinner
Remover preparation method:
Take a separate container.
Pour denatured alcohol and lacquer thinner equally.
Stir them with a stick.
# Procedure for applying remover on wood:
Apply the paint remover

Use a regular paintbrush to apply the paint remover.
Start by applying the remover to the varnish layer.
Apply a sufficient amount of solution. This means it should look moist.

Allow the paint remover to dry on the varnish.

Leave it to sit on the varnish for ten minutes or so. (Water-based strippers take longer to start up.)

Check whether the solution has started working or not.

When the solution begins to act, the polyurethane layer will wrinkle and bubbles will begin to form.
# A method for removing polyurethane from wood:
Scrape the varnish

You should use a plastic scraper to remove it.

Clean the scraped area

Take a clean and dry cloth and clean the pieces of scrapped Polyurethane.
Dip the cloth in water or whatever is recommended by the instructions then wipe all the area.
Remove the extra water with a dry cloth.
# Method to get more clean surface.
Use a wood cleaner to get rid of the waste.

Remove the waste using a wood cleaner on the surface.
Pour warm water on the surface after cleaning with a wood cleaner.
Pat the entire area dry.

To remove any remaining polyurethane and the paint remover, apply an after-wash solvent.
Use a paper towel to rub it.
# Furthermore, you can smooth the surface with sandpaper.
You can use sandpaper for a more smooth surface.
Sandpaper usage is somewhat risky. It can damage your wood.
Sanding the wood should be done gently to avoid leaving grit marks.
Clean off the sand before adding a fresh coat of varnish.
# How to remove polyurethane from wood without sanding?
Here are some methods and tips to remove polyurethane from wood without sanding.
Method 1: Using Denatured Alcohol and Lacquer Thinner
I explained this method of removing polyurethane at the beginning, so you can learn from above.
Still, I would like to tell you in short.
Requires:
Denatured alcohol
Lacquer thinner
Warm water
Stirring stick
Fine steel wool 00 pad
Regular paintbrush
Step 1: Prepare to start working
Clean the surface of the wood and make sure your project should be done in a well-ventilated room.
Step 2: Make a remover by mixing denatured alcohol and lacquer thinner together.
Step 3: Apply the mixture on the surface of the wood to remove polyurethane.
Step 4: Remove the mixture from the wood surface.
Step 5: Clean the wood surface.
Method 2: Remove Poly from Wood with Paint Stripper
Requires:
Citrus stripper gel
Vacuum cleaner
Regular paintbrush
Plastic scraper
Regular brush
Chemical-resistant gloves
Chemical splash goggles
Step 1: Prepare the workspace before you start.
Vacuum the work surface or wipe it down with a clean towel.
Step 2: Apply the stripper.
Shake the stripper before applying
Pour the paint stripper in a container.
Then apply the paint stripper to the workpiece using a standard paintbrush.
You can use a toothbrush to apply the stripper to the corners.
Step 3: let dry the paint stripper or sock the polyurethane.
Allow the stripper to work effectively for 30 to 24 hours.
If you are allowing the stripper to stay on the wood for a long time, then cover the wood with plastic.
Step 4: Scrape the stripper socked polyurethane.
After 24 hours, scrape off the polyurethane using a scraper.
Begin to scrape in the direction of the grain of the wood.
Use a stripping pad if the corner is difficult to reach.
Step 5: Clean the wood's surface.
Use a paint stripper wash to get rid of any leftover paint on the wood surface. (Follow the cleaning guidelines.)
Method 3: Using baking soda and vinegar.
Requires:
Baking soda.
Vinegar.
Vacuum cleaner.
Regular paintbrush
Hot water.
Stirring stick.
Cornstarch.
Wire brush or steel wool 00 pad.
60, 80, and 120 grit assorted sandpapers (Optional).
Step 1: Get the mixture ready.
Make sure your workspace is prepared and dust-free.
Mix baking soda, cornstarch, and cleaning vinegar together.
Take an empty container.
Pour 4 cups of hot water.
Add 1 cup of cornstarch.
1/2 cup of cold water.
When you mix all these things a thick paste will be formed.
Get another bowl, and fill it with 4 cups of water.
After this, add half a cup of soda and a tablespoon of vinegar to it.
Use a stirring stick to combine this substance.
Then mix this mixture well in the initial mixture prepared by you.
Step 2: Using a standard paintbrush, apply the mixture.
Apply the prepared mixture with a paintbrush to the workpiece.
Let it rest for about 5 to 10 minutes to sit in the wood.
Next, scrub the wood surface with a wire brush or plastic scraper. (Avoid applying excessive pressure because overpressure can damage your wood.)
Let the surface dry.

You can use a hairdryer to dry quickly.
Step 3: The third step is to sand the surface of the wood
The purpose of sanding in this method is to prepare the wood for future refinishing, not to remove the polyurethane.
You can start sanding with the 60-grit sandpaper to bring back its natural color.

One crucial point is that you ought to always sand in the direction of the grain.

Then, sand the wood with 80-grit sandpaper with low pressure.
For the best effect in the end, you'll need to sand with 120-grit sandpaper.
Now clean the wood

Then, clean the wood with a dry, clean rag.
However you can clean with a wood cleaner or a vacuum to clean